3-Bean Chili Dog
Topped with a quick and easy chili, this yummy cheese dog is perfect for summer lunch menus – but it's so tasty, you'll make it all year long.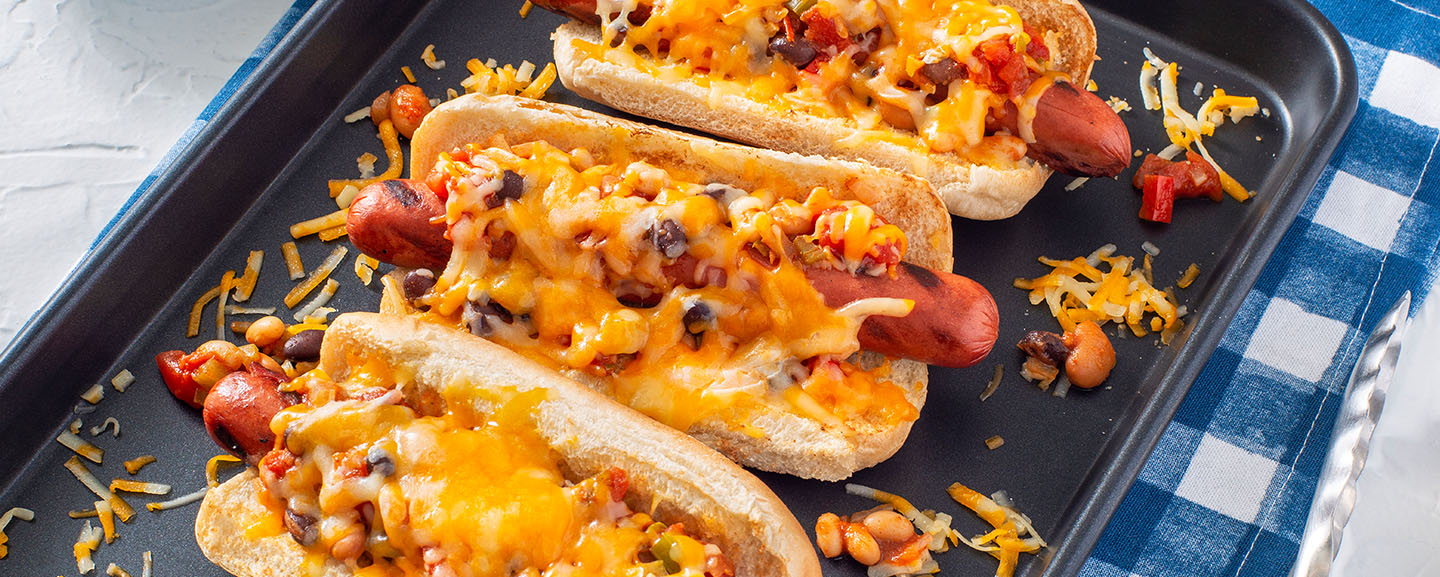 | Prep Time | Cook Time | Yields |
| --- | --- | --- |
| 30 Mins | 35 Mins | Serves 6 |
Ingredients
2 tbsp (30 mL) olive oil
1 small onion, diced
1 stalk celery, diced
1 small red pepper, diced
1 jalapeño pepper, diced
2 cloves garlic, minced
1/2 tsp (2 mL) each salt and pepper
2 tbsp (30 mL) chili powder
1 can (796 mL) diced tomatoes
1 can (398 mL) pinto beans, drained and rinsed
1 can (398 mL) black beans, drained and rinsed
1 can (398 mL) navy beans, drained and rinsed
1/2 cup (125 mL) smoky barbecue sauce
12 jumbo hotdogs
12 hot dog buns, split
3 cups (750 mL) P'tit Quebec Marble Shreds
1/2 cup (125 mL) pickled jalapeño slices
Directions
Heat oil in large skillet set over medium heat; cook onion, celery, red pepper, jalapeño, garlic, salt and pepper for 5 to 8 minutes or until slightly softened. Stir in chili powder; cook for 2 minutes.
Stir in tomatoes, pinto beans, black beans, navy beans and barbecue sauce; bring to boil. Reduce heat to medium-low; cook for 15 to 20 minutes or until thickened.
Meanwhile, preheat grill to medium-high heat; grease grate well. Grill hotdogs according to package directions. Toast buns for 1 to 2 minutes or until lightly grill marked and toasted.
Assemble hotdogs in buns; top with dollop of chili and P'tit Quebec cheese. Grill over indirect heat for 2 to 3 minutes or until cheese starts to melt. Garnish with pickled jalapeños. Serve with remaining chili on the side.
Tips
Substitute thinly sliced fresh jalapeño slices for pickled jalapeños or use your favourite hot chili pepper if desired.
If preferred, use a steamed hot dog. Dress the hotdog in the bun with toppings and broil until cheese melts.