Buffalo Cauliflower Quesadilla
This cheesy roasted cauliflower quesadilla is filled with lots of crowd- pleasing flavours.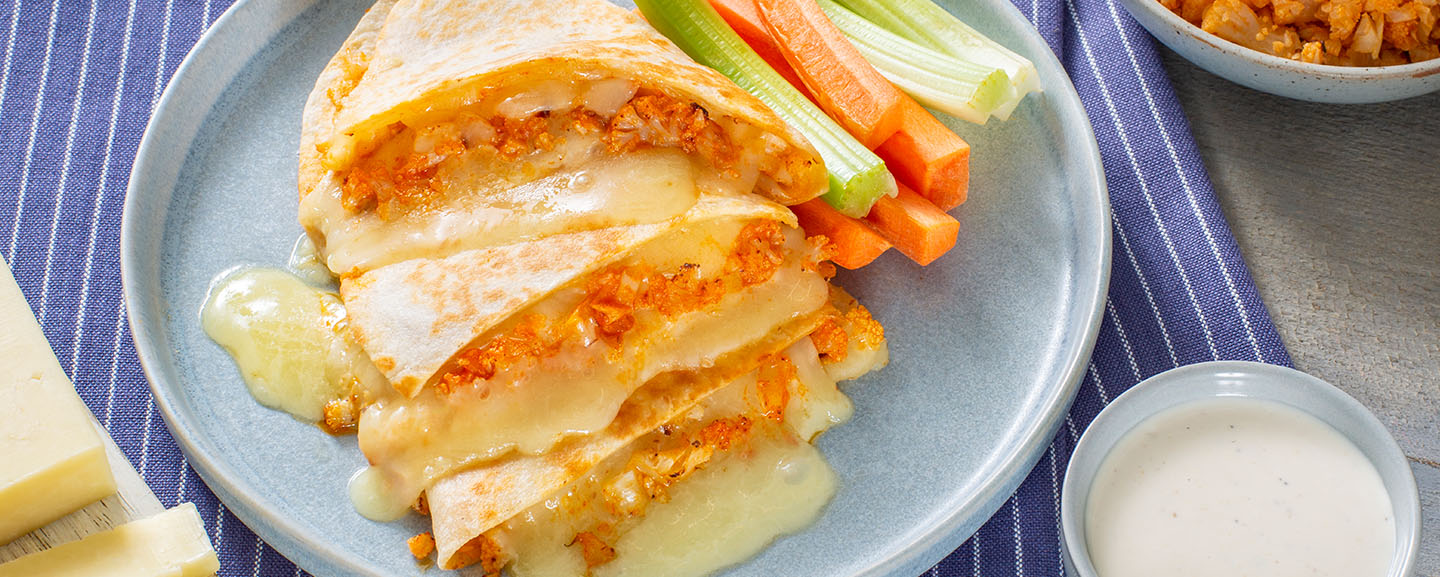 | Prep Time | Cook Time | Yields |
| --- | --- | --- |
| 30 Mins | 40 Mins | Serves 4 |
Ingredients
3 cups (750 mL) small cauliflower florets
3 tbsp (45 mL) olive oil, divided
1/4 cup (60 mL) hot sauce
4 tsp (20 mL) butter, melted
1 tbsp (15 mL) cider vinegar
1/4 tsp (1 mL) brown sugar
1/4 tsp (1 mL) garlic powder
1/2 pkg (400 g) P'tit Quebec Medium White Cheddar Blocks
4 large flour tortillas
1/2 cup (125 mL) ranch dressing
4 celery stalks, cut into sticks
2 large carrots, cut into sticks
Directions
Preheat oven to 425˚F (220˚C). Toss cauliflower with 4 tsp (20 mL) oil; arrange on parchment paper–lined baking sheet. Bake for 20 to 25 minutes or until golden brown and very tender. Let cool slightly; chop finely.
Whisk together hot sauce, melted butter, vinegar, brown sugar and garlic powder. Toss roasted cauliflower with hot sauce mixture.
Evenly arrange half of the P'tit Quebec cheese over one half of each tortilla; top with buffalo cauliflower. Top with remaining cheese. Fold each tortilla over to enclose filling.
Brush 2 tsp (20 mL) remaining oil in bottom of large skillet set over medium heat; cook quesadillas, in batches, for 2 to 3 minutes per side or until golden brown and cheese melts, adding remaining oil as needed.
Cut each quesadilla into 3 wedges. Serve with ranch dressing, celery and carrot sticks.
Tip
Alternatively, serve with blue cheese dressing for dipping.