Cheesy Eggplant Parmesan Dip with Crostini
This Italian-inspired warm and cheesy dip makes a tasty and comforting appetizer for casual entertaining with family or friends.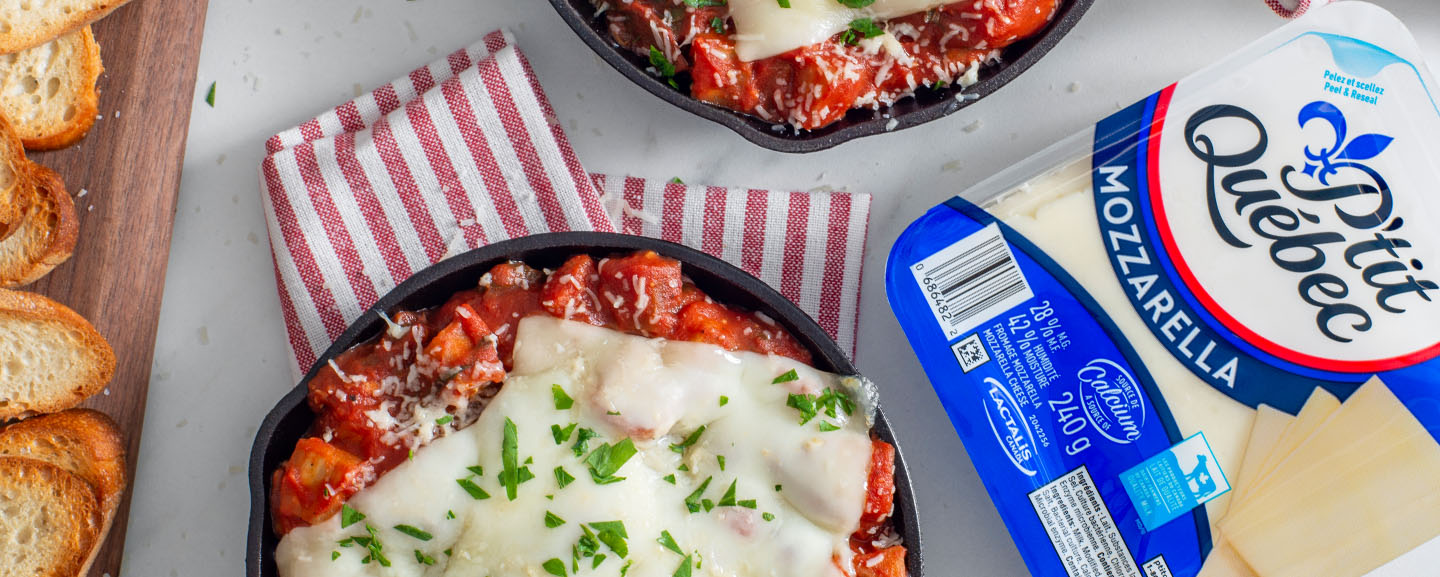 | Prep Time | Cook Time | Yields |
| --- | --- | --- |
| 30 Mins | 40 Mins | Serves 4 to 6 |
Ingredients
1/2 cup (125 mL) olive oil, divided
3 cups (750 mL) diced eggplant (11 oz/315 g)
3 cloves garlic, minced
1/2 tsp (2 mL) salt
1/4 tsp (1 mL) pepper
Pinch red pepper flakes
2 1/2 cups (625 mL) strained puréed tomatoes (passata)
1/4 cup (60 mL) thinly sliced fresh basil
1 pkg (240 g) P'tit Quebec Mozzarella Slices
1/3 cup (75 mL) grated Parmesan cheese
2 tbsp (30 mL) finely chopped fresh parsley
1 baguette, sliced into rounds
Directions
Preheat oven to 425°F (220°C). Heat 1/4 cup (60 mL) oil in large ovenproof skillet set over medium heat; cook eggplant for 5 to 8 minutes or until slightly softened. Stir in garlic, salt, pepper and red pepper flakes; cook for 2 minutes. Stir in tomatoes; bring to boil. Cook for 10 to 15 minutes or until eggplant is very tender and sauce is slightly thickened. Stir in basil.
Top with P'tit Quebec mozzarella slices; sprinkle with Parmesan. Drizzle with 2 tbsp (30 mL) olive oil. Bake for 12 to 15 minutes or until golden brown and bubbling. Sprinkle with parsley. Let stand for 5 minutes before serving.
Meanwhile, place baguette rounds on parchment paper–lined baking sheet; brush with remaining oil. Bake alongside dip for 8 to 10 minutes or until golden brown and toasted.
Serve eggplant dip with crostini.
Tips
For a variation, add diced bacon or pancetta to the dip.
Alternatively, transfer dip to an ovenproof casserole dish before topping with cheese and baking.