Cheesy Nachos Al Pastor with Baked Pita Chips
Inspired by the classic Tacos al Pastor, these healthy baked pita nachos are topped with simple pork sauce flavoured with chipotle and pineapple and lots of ooey-gooey Cheddar cheese.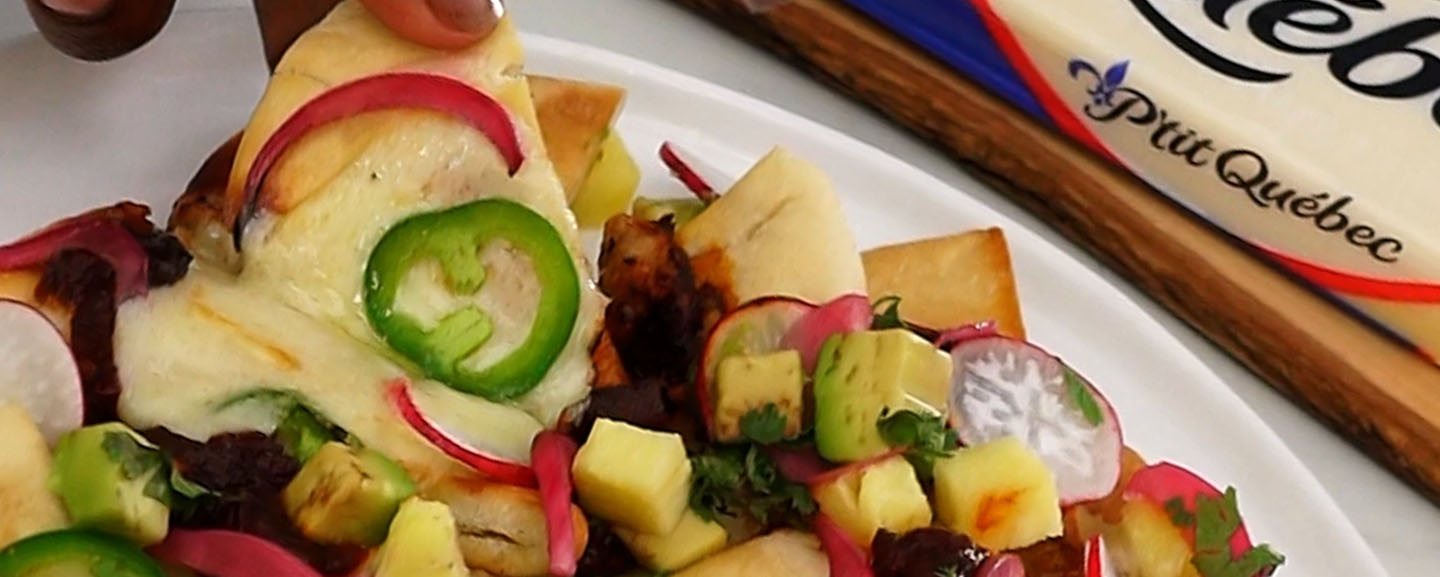 | Prep Time | Cook Time | Yields |
| --- | --- | --- |
| 40 Mins | 40 Mins | Serves 4 |
Ingredients
Pita Chips
4 pita pockets (7-inch/18 cm)
3 tbsp (45 mL) olive oil
1/2 tsp (2 mL) each salt and pepper
Nachos
2 tbsp (30 mL) olive oil
10 oz (300 g) lean ground pork
1/4 tsp (1 mL) each salt and pepper
1/2 cup (125 mL) diced onion
2 cloves garlic, minced
1 tsp (5 mL) ground cumin
1 tsp (5 mL) chili powder
1/3 cup (75 mL) tomato sauce
1/3 cup (75 mL) pineapple juice
2 tbsp (30 mL) lime juice
1 canned chipotle in adobo sauce, minced
1/2 pkg (600 g) P'tit Quebec Mild Cheddar Blocks
1/2 cup (125 mL) diced pineapple
1 jalapeño pepper, thinly sliced
1 avocado, halved, pitted, peeled and diced
1/2 cup (125 mL) pickled red onions
2 radishes, thinly sliced
2 tbsp (30 mL) finely chopped fresh cilantro
Directions
Pita Chips: Preheat oven to 375°F (190°C). Cut each pita into 8 wedges; split apart into 64 triangles.
In large bowl, toss together pita triangles, oil, salt and pepper. Arrange pita triangles in single layer on two large baking sheets; bake, rotating pans, for 8 to 10 minutes or until golden brown and crisp. Let cool completely. (Can be stored in airtight container for up to 2 days.)
Nachos: Preheat oven to 400°F (200°C). Heat oil in large skillet set over medium heat; cook pork, for 5 to 8 minutes or until starting to brown. Season with salt and pepper. Stir in onion, garlic, cumin and chili powder; cook for 3 to 4 minutes or until starting to soften. Stir in tomato sauce, pineapple juice, lime juice and chipotle; bring to boil. Cook for 10 to 15 minutes or until sauce is thickened and clings to pork.
Lay half of the pita chips on parchment paper–lined pizza pan or baking sheet. Scatter half each of the P'tit Quebec cheese, pork mixture, pineapple and jalapeño over top. Repeat layers.
Bake for 10 to 12 minutes or until cheese is melted. Sprinkle with avocado, pickled red onions, radishes and cilantro.
Tips
Serve with sour cream and red or green salsa if desired.