Turkey Meatball Rapini Submarine
This delicious turkey meatball sub is sure to be a hit with the whole family.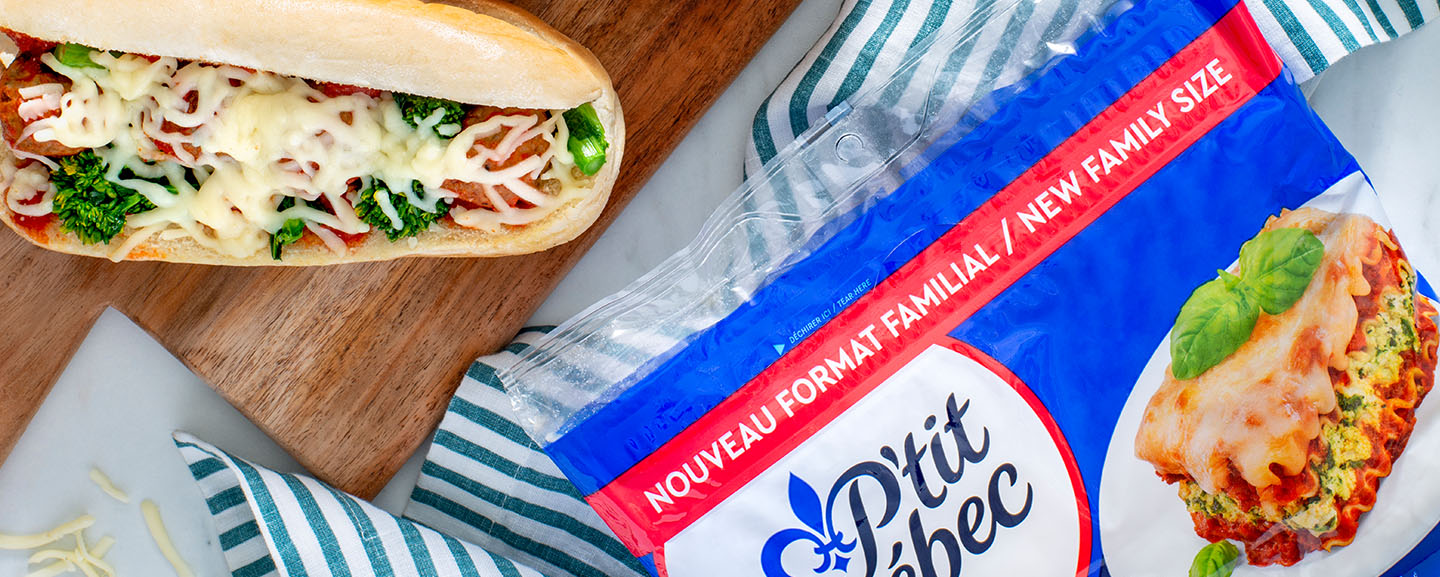 | Prep Time | Cook Time | Yields |
| --- | --- | --- |
| 40 Mins | 45 Mins | Serves 4 |
Ingredients
Meatballs
1 lb (500 g) lean ground turkey
1/4 cup (60 mL) bread crumbs
1 egg
2 tbsp (30 mL) finely chopped fresh basil
2 tbsp (30 mL) finely chopped fresh parsley
1 tbsp (15 mL) finely chopped fresh rosemary
2 cloves garlic, minced
1 tsp (5 mL) fennel seeds, crushed
1/2 tsp (2 mL) each salt and pepper
1/4 tsp (1 mL) red chili flakes
Rapini Submarine
2 cups (500 mL) tomato sauce
2 tbsp (30 mL) olive oil
2 cloves garlic, sliced
1 bunch rapini, trimmed and chopped
1/2 tsp (1 mL) each salt and pepper
4 submarine buns (12-inch/30 cm), split
1 pkg (480 g) P'tit Quebec Mozza! Shreds
Directions
Meatballs: Preheat oven to 425°F (220°C). Mix together ground turkey, bread crumbs, egg, basil, parsley, rosemary, garlic, fennel seeds, salt, pepper and chili flakes. Roll into 1-inch (2.5 cm) balls. Transfer to parchment paper–lined baking sheet; bake for 15 to 18 minutes or until golden brown and cooked through.
Rapini Submarine: Preheat broiler. In saucepan set over medium heat, cook tomato sauce until simmering. Add baked meatballs to saucepan; cook for 5 to 8 minutes or until well coated.
Heat oil in large skillet set over medium-high heat; cook garlic slices for 1 to 2 minutes or until slightly softened. Stir in rapini, salt and pepper; cook for 4 to 6 minutes or until starting to soften. Add 1/4 cup (60 mL) water; cover and cook for 3 to 5 minutes or until tender.
Assemble rapini, meatballs and sauce in submarine buns. Top with P'tit Quebec cheese. Arrange sandwiches on foil-lined baking sheet. Broil for 2 to 3 minutes or until cheese melts and bread is lightly toasted.
Tips
For a loaded meatball submarine sandwich, add sautéed bell peppers, mushrooms and onions.
Substitute broccoli or broccolini for rapini.
Serve with Calabrian chilies or pepperoncini for a spicy kick.