Roasted Garlic & Herb Mac and Cheese
This classic baked mac and cheese is jazzed up with sweet roasted garlic and a fresh mix of fines herbs.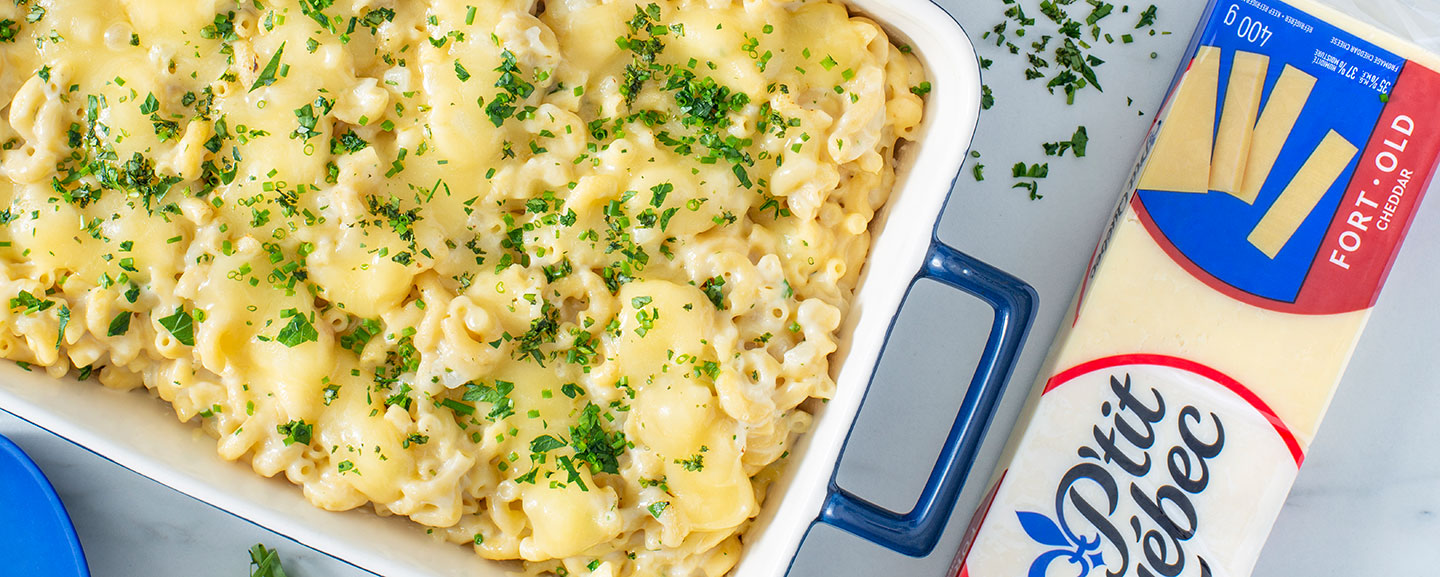 | Prep Time | Cook Time | Yields |
| --- | --- | --- |
| 30 min | 1 h 15 min | 4 |
Ingredients
Roasted Garlic:
2 heads garlic
1 tbsp (15 mL) olive oil
Mac and Cheese:
1 pkg (400 g) P'tit Quebec Old Cheddar Blocks, divided
1 lb (500 g) macaroni
3 tbsp (45 mL) butter
1 onion, diced
3 tbsp (45 mL) all-purpose flour
2 1/2 cups (625 mL) 3.25% homogenized milk
1 tbsp (15 mL) Worcestershire sauce
1 tsp (5 mL) mustard powder
1/2 tsp (2 mL) each salt and pepper
1/4 tsp (1 mL) ground nutmeg
Pinch cayenne pepper
2 tbsp (30 mL) finely chopped fresh chives
2 tbsp (30 mL) finely chopped fresh parsley
2 tbsp (30 mL) finely chopped fresh tarragon
Instructions
Roasted Garlic: Preheat oven to 425˚F (220˚C). Slice off tip from each head of garlic, just enough to reveal cloves. Drizzle with oil; wrap each head in double layer of foil. Bake for 20 to 25 minutes or until garlic is soft and tender.
When cool enough to handle, squeeze out garlic from cloves; set aside.
Mac and Cheese: Meanwhile, cook macaroni according to package directions; drain, reserving 1/2 cup (125 mL) cooking liquid.
Meanwhile, melt butter in large high-sided skillet set over medium heat; cook onion for 3 to 5 minutes or until tender.
Sprinkle flour over top; cook, stirring, for 2 to 3 minutes or until smooth. Slowly whisk in milk; bring to boil, whisking constantly. Reduce heat to medium-low; cook, stirring constantly, for 8 to 10 minutes or until thickened slightly. Stir in Worcestershire sauce, mustard powder, salt, pepper, nutmeg and cayenne. Reduce heat to low.
Stir in half of the P'tit Quebec Cheddar until melted. Stir in roasted garlic and half of the chives, parsley and tarragon.
Reduce oven to 400˚F (200˚C). Toss macaroni and reserved cooking liquid with sauce, tossing for 1 or 2 minutes or until well coated. Transfer to greased 13- x 9-inch (3 L) baking dish. Top with remaining cheese.
Bake for 20 to 25 minutes or until golden brown and bubbly. Let stand for 10 minutes before serving. Garnish with remaining chives, parsley and tarragon.
Tips:
Serve with a crisp green salad.
Substitute caramelized onions for roasted garlic if preferred.