Panko and Smoked Paprika Crusted Curd Bites
Crunchy and delicious with a hot, gooey centre! This recipe features P'tit Québec® Poutine Cheese Curds seasoned with smoked paprika and garlic, rolled into panko bread crumbs and fried until crispy and golden. Dip them into your favourite dip – and make sure you have enough P'tit Québec Poutine Cheese Curds to make more!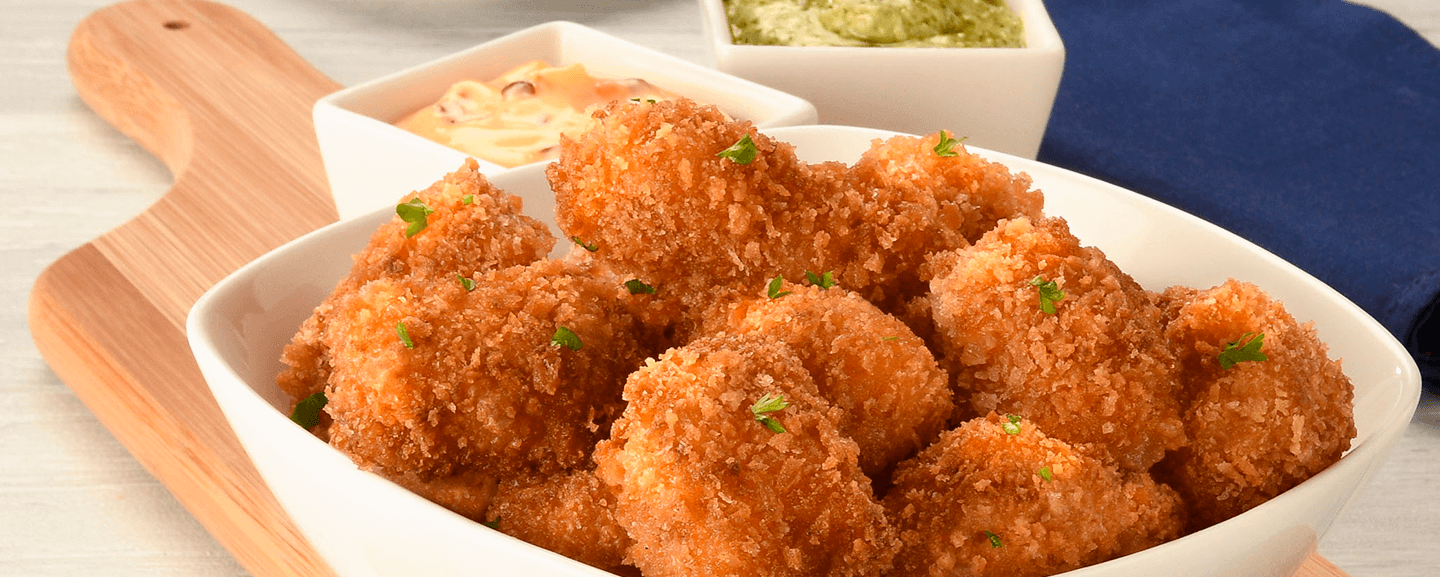 | Prep Time | Cook Time | Yields |
| --- | --- | --- |
| 20 Mins | 3-5 Mins | Serves 2-4 |
Ingredients
2 packages (400 mL) P'tit Québec Poutine Cheese Curds
3 tsp (15 mL) smoked paprika
2 tsp (10 mL) garlic powder
1 tsp (5 mL) salt
½ tsp (2.5 mL) pepper
½ cup (125 mL) Lactantia® 2% milk
1 egg
½ cup (125 mL) flour
¾ cup (190 mL) panko bread crumbs
½-1 cup (125-250 mL) vegetable oil
Dips of choice
Directions
Combine smoked paprika, garlic powder and salt in a bowl and mix thoroughly. Pour spice mixture into a large freezer bag. Place P'tit Québec® Poutine Cheese Curds into the bag, seal top, and shake well to coat curds with the spices. Remove curds from bag and set aside.
In another bowl, whisk together milk and egg.
Measure the flour and panko bread crumbs into separate bowls. Set aside.
Dip each of the curds into the milk and egg mixture, then roll in the flour, dip into the egg mixture again and then roll in the panko bread crumbs. Set breaded curds aside.
In a skillet, heat ½ inch of oil over medium-high heat. Fry the curds in batches until crispy and golden – approximately 3-5 minutes. Use a slotted metal spoon to remove curds and allow them to rest for 3 minutes on a plate lined with paper towel.
Salt lightly and serve with your favourite dips.
Serving suggestions: Ranch dressing, Sriracha mayo, nacho cheese sauce, sweet chili sauce, guacamole, hot mustard and mayo dip.