Egg Salad Melt
This satisfying egg salad melt makes a tasty lunch but works equally well for breakfast or brunch.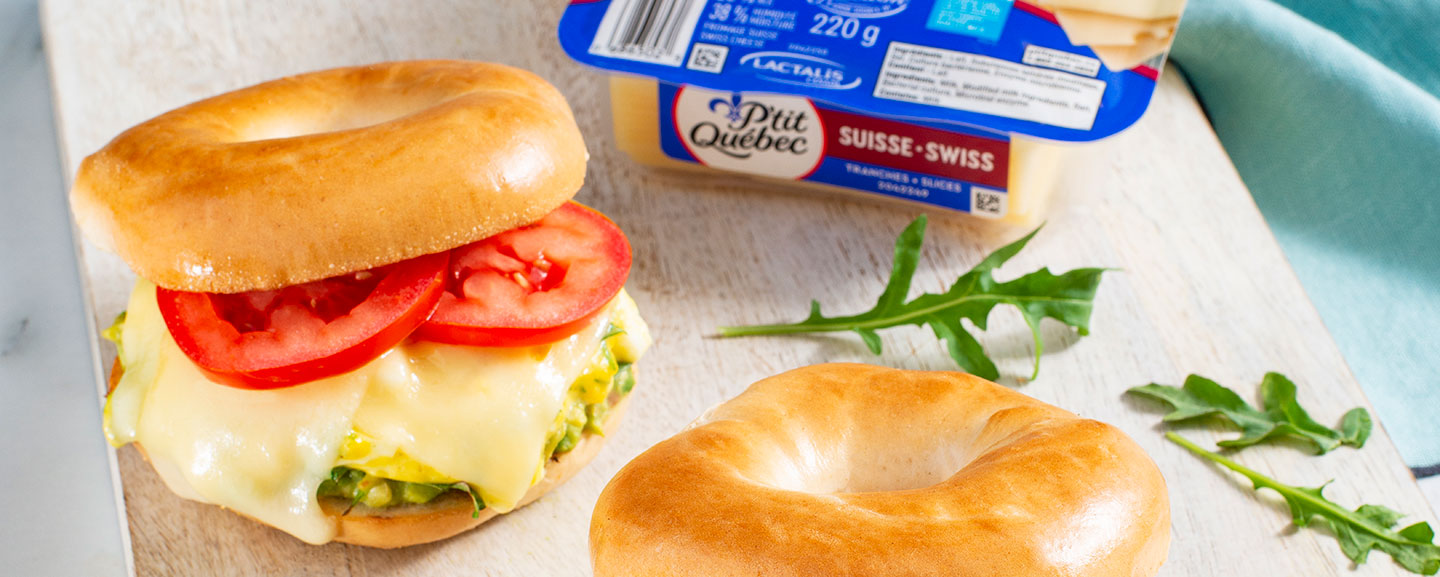 | Prep Time | Cook Time | Yields |
| --- | --- | --- |
| 20 min | 15 min | 4 |
Ingredients
8 eggs
1/4 cup (60 mL) mayonnaise
2 tbsp (30 mL) Greek yogurt
1 tbsp (15 mL) Dijon mustard
1 stalk celery, finely diced
1 green onion, thinly sliced
1 tbsp (15 mL) finely chopped fresh dill
1 tbsp (15 mL) finely chopped fresh parsley
3/4 tsp (4 mL) each salt and pepper, divided
1 avocado, halved, pitted, peeled and sliced
1 tbsp (15 mL) lemon juice
4 bagels, split and toasted
1 cup (250 mL) arugula
8 slices P'tit Quebec Swiss Slices
8 tomato slices
Instructions
Preheat broiler. Place eggs in single layer in large saucepan; pour in enough cold water to cover eggs by at least 1 inch (2.5 cm). Bring to boil over high heat; remove from heat. Cover and let stand for 10 minutes; drain and rinse under cold water. Peel and chop eggs. Let cool completely.
In bowl, stir together mayonnaise, yogurt, mustard, celery, green onion, dill, parsley, and 1/2 tsp (2 mL) each salt and pepper. Fold in eggs; set aside.
Mash together avocado, lemon juice, and remaining salt and pepper.
Place toasted bagel halves on foil-lined baking sheet. Spread each half evenly with mashed avocado. Top with arugula, egg salad, P'tit Quebec cheese slice and tomato slice.
Broil for 2 to 3 minutes or until cheese starts to melt.
Tip: Use plain, sesame seed, poppy seed or everything bagels as preferred or substitute English muffins.