Tourtière-Style Casserole
Perfect for weeknight dinners, this casserole twist on a classic tourtière replaces pastry with a mashed potato topping for easy preparation.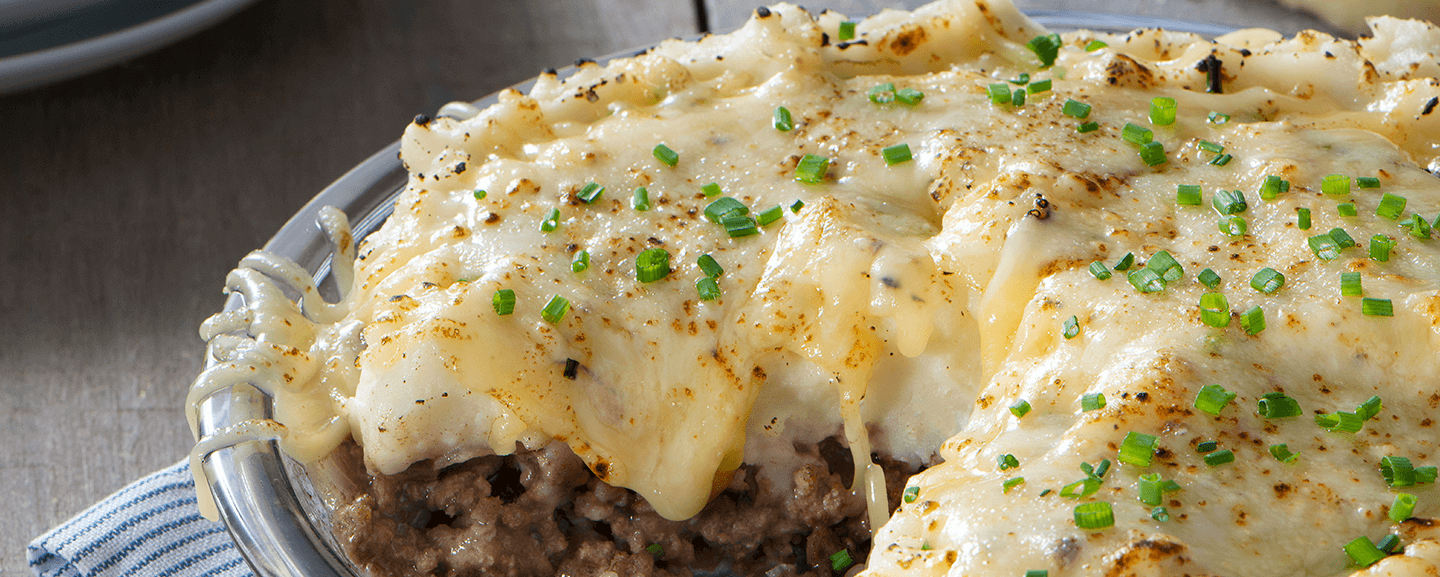 | Prep Time | Cook Time | Yields |
| --- | --- | --- |
| 10 Mins | 25 Mins | Serves 4 |
Filling
2 tbsp (30 mL) butter
1 1/2 lb (625 g) lean ground beef
1 tsp (5 mL) salt and pepper
1 onion, diced
2 cloves garlic, minced
1/4 cup (60 mL) finely chopped fresh sage
1 tbsp (15 mL) finely chopped fresh thyme
1/4 tsp (1 mL) ground nutmeg
Pinch ground cloves
1 tbsp (15 mL) all-purpose flour
1 cup (250 mL) sodium-reduced beef broth
Topping
1 1/2 cups (375 mL) shredded P'tit Québec Brick Cheese
1 1/2 lb (625 g) Yukon Gold potatoes, peeled and cut into 2-inch (5 cm) chunks
1/4 cup (60 mL) milk
3 tbsp (45 mL) butter
1/4 tsp (1 mL) salt and pepper
2 egg yolks
1 tbsp (15 mL) finely chopped fresh chives
Directions
Filling: Preheat oven to 375˚F (190˚C). Melt butter in large skillet set over medium-high heat; cook ground beef, salt and pepper for 5 to 8 minutes or until browned.
Stir in onion, garlic, sage, thyme, nutmeg and cloves; cook for 3 to 5 minutes or until onion is slightly softened. Sprinkle flour over top; cook for 2 minutes. Slowly whisk in broth; bring to boil. Reduce heat to medium-low; cook for 10 to 15 minutes or until thickened and almost no liquid remains.
Topping: Meanwhile, in pot of boiling salted water, cook potatoes for about 15 minutes or until tender. Drain well; return to saucepan. Add milk, butter, salt and pepper; mash until light and fluffy. Stir in egg yolks.
Scrape filling into 10-inch (25 cm) round baking dish. Spread mashed potatoes over top. Sprinkle with cheese. Bake for 30 to 35 minutes or until topping is golden brown and filling is bubbling. Sprinkle with chives.